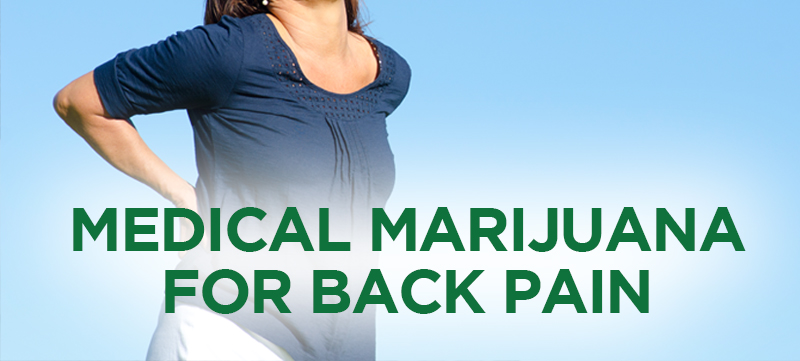 Medical marijuana has gained tremendous popularity as a natural alternative to prescription and over-the-counter pain medications, particularly in people who suffer from chronic back pain.
While traditional treatment and pain management medicines can be highly effective, they often come with a range of unpleasant side effects, from nausea and upset stomach to ulcers and gastric bleeding.
Many of these conventional medications are also highly addictive and, for those who experience debilitating back pain, long-term use of these can lead to insomnia, anxiety, depression, and dependency.
Medical Marijuana & Pain Management Research
Over the last few decades, many studies have been undertaken to study the effects of marijuana on a variety of conditions and ailments.
This research has overwhelmingly demonstrated the presence of cannabinoid receptors in the areas of the nervous system that control pain perception, making cannabis a very promising source of pain relief.
Other studies have shown that patients who used medical marijuana in the treatment of various back ailments- including chronic back pain, multiple sclerosis, spinal cord injuries, and post-surgery pain- reported their pain being alleviated.
In fact, many have stated that the use of medical marijuana was far more successful in easing their pain when compared to traditional narcotic medicines.
Benefits of Medical Cannabis for Back Pain
Chronic back pain can be caused by a plethora of underlying issues. Luckily, medical marijuana has the capacity to treat a variety of symptoms. Cannabis has been shown to be particularly helpful for treating muscle spasms and the subsequent pain that they cause.
It is also quite common for the treatment of degenerative disc disease, as it combats the painful inflammation that is symptomatic of the condition.
Dosages & Strains for Various Degrees of Back Pain
Another benefit of exploring the use of medical marijuana for pain management is the plethora of strains and methods available. Different strains contain varying amounts of THC, and doctors will typically recommend a lower dosage to begin the treatment, though this is entirely based on the individual patient and his/her symptoms and degree of pain.
For those who are against smoking, vaporizers, oils, edibles, raw juice, and tinctures compose a list of options, allowing the patient to find the combination that works best for him or her.
In addition to providing patients with the pain relief necessary to live happier, more active lives, medical marijuana also comes without the risk of adverse effects from synthetic medications, providing the patient with peace of mind.
This natural treatment can enable patients to regain control of their lives again, allowing them to be comfortable again, both physically and mentally.
Are You Eligible for Treatment with Medical Marijuana?
Dr. Bruce Stratt, MD in Boca Raton, Florida is approved to evaluate patients seeking medical marijuana for their debilitating conditions. To see if you qualify for medical cannabis use, contact our staff today at (561) 571-9076.